Background
Many of you will have heard of the Queen's Green Canopy, a unique tree planting initiative created to mark Her Majesty's Platinum Jubilee in 2022. The link below explains the initiative if you are not familiar with it.  https://youtu.be/F-eu8gD85cw 
 
Excitingly, Freshford Church School have been gifted an English Oak sapling to plant as part of this Jubilee celebration. 
 
Headteacher Andrew Wishart and the children would like to ask the community of Freshford whether they may plant the tree on the Tyning, where it will not only add to the village's biodiversity, but also be visible to the children every day as it grows. 
 
Planting and nurturing trees helps to reinforce children's sense of personal agency in improving their environment and working against climate change, and the children are very excited to have been given a tree by the Queen! 
Location
The proposed site is at the western end of the Tyning, roughly halfway down the slope, where it can be enjoyed by the children and will not impede views across the village – see the picture below: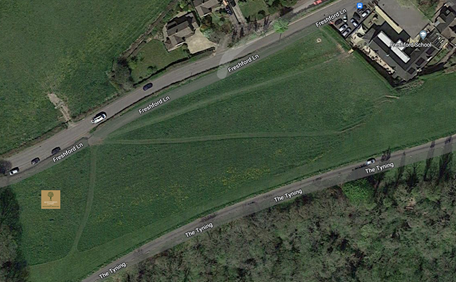 Survey
Freshford Parish Council is asking the community to show their support for the Jubilee Oak using the following link to answer a quick survey:
The location is also shown in the survey for clarity.
This year's window for planting is nearly at an end, so please submit your responses by Thursday 31st March.
Picture Gallery
The following pictures have been drawn by pupils at Freshford school describing their thoughts: