Meetings usually last about an hour and are held in the Freshford Village Memorial Hall on the fourth Wednesday of each month, September-November and January-May.
The hall is open from 7.00 pm and the talks start at 7.30 pm. Visitors are very welcome to come to meetings without advance notice.
The annual subscription is just £10, with visitors paying £3 to attend a meeting. All are welcome.
If you know of anyone who would like to become a member, please suggest they just turn up at the next meeting, contact Penny Jones on peter.pennyjones@gmail.com or phone 01225 723447 and leave a message if you have a query. Email Penny Jones if you are interested and would like to be kept informed but can't get to meetings.
Next Meeting – 24 September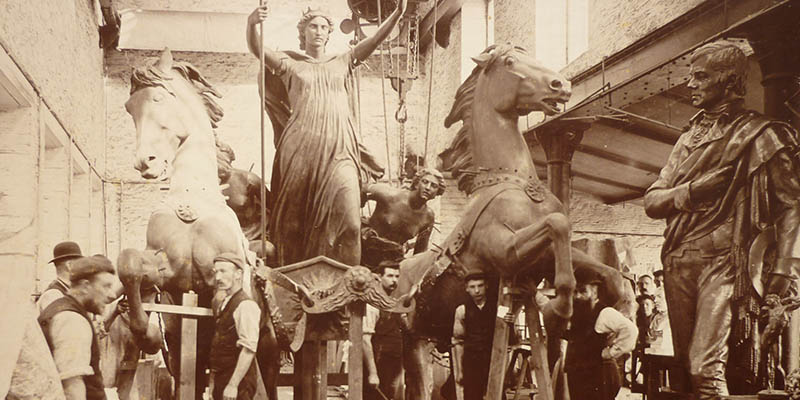 Sue Bucklow:
CASTING THE WORLD:
THE STORY OF J. W. SINGER & SONS, FROME
Wednesday 24th November 2021 at 7.30pm
FRESHFORD VILLAGE MEMORIAL HALL
Sue Bucklow is the Curator of a recent exhibition featuring the work of J.W. Singer & Sons and the iconic monuments and statues made in Frome. The exhibition was based on years of research, at the centre of which are large-scale reproductions from the conserved Victorian glass plate negatives from the Singer's archive. The images were nearly lost to history but for the quick thinking of one of Singer's employees who, in the 1970s, stopped boxes of glass plate negatives from being thrown into a skip and arranged for them to be donated to Frome Museum.
Over 3,000 glass plate negatives and photographs survive, holding images of hundreds of artworks, large and small, produced at the foundry, and of some of the local people involved in their production. Sue Bucklow will bring to light some of the incredible archive of images and tell the fascinating story of John Webb Singer and the legacy he created in Frome and beyond.
Members free. Visitors £3.00. Everyone welcome.
2021 Meeting Dates
Date
Subject
Speaker
27 October
A-Z of Frome
David Lassman
24 November
Casting the World: The Story of JW Singer & Sons, Frome
Sue Bucklow
(Curator, Rook Lane Chapel, Frome)
Dates are subject to the Covid-19 rules that are in place at that point in time.
2022 Meeting Dates
Date
Subject
Speaker
26th January
History of Bath Botanic Gardens
Ann Brooks
(Horticultural historian, researcher and author)
23rd February
A History of Mells Manor
Jenny Waller
(Textile artist and historian)
23rd March
Somerset and Wiltshire on Old Film
David Parker
(retired Programme Creator for Channel 4 TV)
27th April
Bath-v-Lyme: Architecture in Austen's Persuasion
Amy Frost
(Senior Curator, Bath Preservation Trust)
25th May AGM & Alan Dodge Memorial Lecture
The Fishers. Significant families in our neighbourhood from the 17th to the early 19th centuries
John MacDonald
(Chairman, Freshford & District Local History Society)
Dates are subject to the Covid-19 rules that are in place at that point in time.