The following trees at the top of The Tyning were identified as being in a critical condition by Bawden Tree Care, and have been felled:
2 poplars
1 Common Hornbeam Tree
1 Ash Tree
The trees were assess to be a danger to public safety and needed to be felled due to the danger of the trees falling on people using the woodland path, enjoying the grass area at the top of The Tyning and also motorists using The Tyning road.
The Critical work also included:
Removing major deadwood from the Oak Tree
Removing major deadwood and suspended or broken branches from from the Sycamore tree
The photographs below of one of the felled poplars clearly shows why it needed to be felled: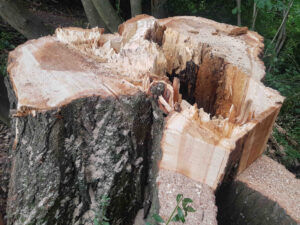 The Future
Moving forwards decisions will need to be taken on how to address the loss of not only these trees, but also the ash trees suffering from ash die-back along the top of The Tyning.
It will need to be understood why the trees needing to be felled reached their current condition to learn the lessons from the past and create a lasting legacy.