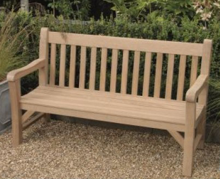 Freshford Parish Council welcomes proposals for memorial benches in public open spaces owned or managed by FPC – including the cemetery, the village green and other areas by agreement – where appropriate opportunities exist. Such benches enhance the environment and provide a welcome public amenity.
FPC has to take responsibility for the purchase and installation of any new bench, for cleaning and maintenance, for insurance and for the removal of the bench at the end of the contract period.
For this reason, and to ensure a consistent visual approach, FPC must give approval for:
The bench style and materials
Its location
The base, if appropriate
The wording and style of any memorial plaque.
On application to the Parish Clerk, FPC will provide a quotation for its standard solid oak bench. FPC needs to recover initial expenses but must also ensure that ongoing costs do not place a burden on residents in the future. If an applicant wishes to specify a bespoke bench, in any respect, it is still subject to approval by FPC and must be installed and maintained by FPC. A quotation will be provided.