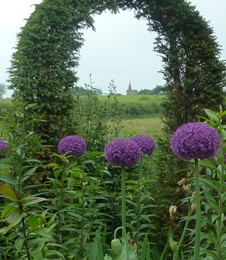 Freshford & District Horticultural Society
This is an astonishing garden, with a distinct, relaxed grace, only forty minutes' drive from Freshford. It makes one think again about the general preconceptions of garden design. There are mixed borders, raised beds, a greenhouse, a pond and a summerhouse at the far end. There is a lawn behind the house and a wild flower meadow in the middle of the garden, intersected by mown paths with statues placed here and there. The garden has been greatly expanded by introducing many standard weeping roses, mixed borders, pergolas and arches on the perimeter. Numerous fruit and ornamental trees have been introduced over the last ten years.
Take the A36 south, then join the A350 almost to Shaftesbury. After the signpost to East Knoyle, take the left hand turning to Semley continue along road and under railway bridge. Take the first right, up Sem Hill and The Grange is first on the left, about 50 minutes from Freshford. There is parking on green.
Everyone is welcome. Entry costs £7.00 per person
To book please contact Steph Jenkins,
Tel: 722270 or email: freshfordsteph@gmail.com
Booking deadline: 17th June