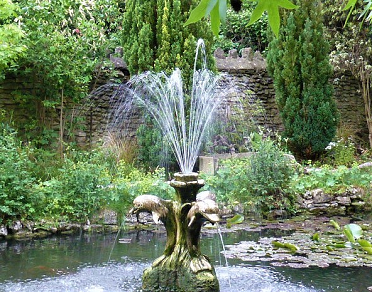 Freshford & District Horticultural Society
This garden comprises two and a half acres, with well stocked borders and some fine and unusual mature trees including a 'Pride of India', a Holm Oak, a Foxglove tree, a Handkerchief tree and a Sour Lemon. There is a small stream leading to a pond with three bridges, fish, water lilies, a waterfall and a fountain. Add to this, a walled fruit and vegetable garden with apples, pears, plums and fig and a working well, There is also a small woodland area and a rose walk with roses and clematis. You will also find interesting wood carvings, (see photo above) in some of the old tree stumps by the pond. The atmosphere in this charming garden evokes long-forgotten childhood afternoons…
Hilperton House is next door to St Michael's Church in The Knapp on the right off Church Street, less than ½ an hour's drive away. Refreshments will be available at Avonfield Kitchen, The Nursery Garden Centre, Hilperton BA14 7PL.
To book please contact Steph Jenkins,
freshfordsteph@gmail.com Tel: 722270
Everyone welcome.