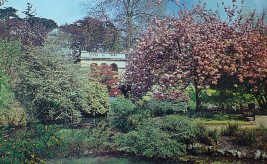 The Botanical Gardens seen today in the Royal Victoria Park, Bath, were established in 1887. The nucleus of the planting came from the receipt of a donation by the widow of Mr. C.E. Broome of Elmhurst, Batheaston.
Their garden was noted for hardy herbaceous plants and flowering shrubs. Over 2000 specimens collected by her husband after a lifetime of gardening were presented to the Park by his widow.
The costs of establishing the gardens were raised by the Corporation and many public subscriptions. Other donations were also made. Limestone rocks came from Elmhurst, and Mr. H.D. Skrine's Claverton Estate. Mr. J.W. Morris, the newly appointed curator, brought hardy plants from his collection and young pines sent to him from the Himalayas. Lady Lushington of Great Bedwyn, Witshire gave the whole of her collection of choice plants.
This was not however the first botanical garden to be a feature of the Park. A small botanic garden.
The Royal Victoria Horticultural and Botanical Gardens, had been formed in 1840. This took the form a 'horticultural garden of botanical interest' surrounding an ornamental farm cottage. Due to lack of support it was soon abandoned.
The idea of a botanic garden goes further back to the very foundation of the Royal Victoria Park. The founders were determined the Park would have 'that additional character of a scientific kind which this picturesque and truly splendid domain is entitled to have … combining science with recreation and pleasure under various titles' and this included that of a botanic garden.
The whole park was therefore considered to be in its entirety a scientific botanic garden and arboretum. How far does this legacy apply today? Not only to the current botanic garden but also to the overall ambitions of the founders of The Royal Victoria Park, Bath.
Members free. Visitors £3.00. Everyone welcome.