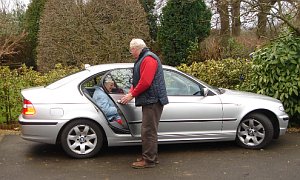 The Link is a charitable organisation for the villagers of Limpley Stoke and Freshford.
This car transport service serves the community where and when public transport is unavailable or inconvenient.
The Link has around thirty volunteer drivers who will take people not only for appointments to local hospitals, doctors and so on but also for shopping and social visits to friends and relatives.
Transport can be arranged by ringing the Co-ordinator on 07714 169216.
Normally 48 hours' notice is required and users of the service are expected to make a voluntary financial contribution towards the cost of their journey.
An appeal for more drivers
Our drivers are at the very heart of what we do. We couldn't do without them but they are fewer than we have had in the past. Without new blood and the growing demand for our service, which is largely attributable to the temporary closure of the Freshford surgery, the corps of existing drivers are being asked to give more of their valuable time and effort.
Please do not hesitate to ask if you need a lift. But if you have a car and an occasional free couple of hours please do consider becoming a link driver.
The first step is to give us a call on 07714 169216.
We look forward to hearing from you.